This is the post for the Monday, March 2, 2015 class meeting.
Today we will look at some resources for Project 3, assessment guidelines for the project, and some examples for the web essay portion of Project 3.
Choosing Your Interface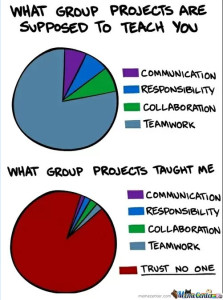 If you have not yet done so, go to the Project 3 Sign-Up and choose one of the remaining tools for your project. Remember you are governed by the Honor Code (so don't remove someone else's name to add your own).
Examples for Project 3
These example web essays included in the Project 3 assignment demonstrate how some students worked on the assignment in the past:
We will explore the sites in groups. Each group will answer the following questions for the essay and prepare to share their findings with the class as a whole at the end of the session:
What are three good things about the project? What should not be changed? Why is it good?
What three suggestions do you have to improve the site?
What three lessons can you take away from the example as you work on your own project?
After all the group have gathered their notes, a spokesperson for each group will present the findings.
Today's Blog Post
Write a post for today that explains at least one specific thing you found in one of the example essays that you will apply to your own Interrogate the Interface project.
Alternately, you could look at the blog post from the opposite perspective and write about something specific you will do in your Interrogate the Interface project that was missing from one of the example essays or would be an improvement on one of the example essays.
Homework
For Wednesday, 3/4:

We'll talk about the expectations for the oral presentation (and how to avoid bad PowerPoint presentations), and talk about working with screenshots. Read the ProfHacker article on  the 1/1/5 organizational strategy.  

For Friday, 3/6:

Class will work online. You will provide a summary and related evidence of working at least 50 minutes on Project 3. No office hours on Friday.

For Monday, 3/9 through Friday, 3/13:

Celebrate. You will be on Spring Break!

For Monday, 3/16 and Wednesday, 3/18:

Be prepared to work on your third project in class. I'll share some additional resources, and have a quick conference with each of you to answer any questions. Please be sure to check email before class on Sunday evening just in case there are additional instructions.

For Friday, 3/20:

Have a draft of your work ready to share in class for peer review.