Important Dates
January 30: Informal peer review in-class and due date (11:55 PM)
January 31 to February 5: Grace period.
February 6: End of grace period. Work must be submitted by 11:55 PM Blacksburg time
The Project Assignment
For this project, you will create a Statement of Your Online Identity, combining a digital image with a brief linguistic text). Your work on this project will require that you do all of the following:
create a digital image (write web content).
customize that image to represent who you are online.
write a related statement that explains your image.
You'll create your image using whatever image editing tools you are comfortable with. Your finished project will also become part of your web portal site.
The Assignment Process
These steps will walk you through the assignment. They are presented in a typical order, but you can complete them in whatever order you desire. Composition is a messy process, and I would not be surprised to find you working on more than one step at a time or working in a completely different order. There is no right or wrong to how you go about the project.
Step 1: Explore your online identity (or identities)
The texts that I asked you to read or view for this project explore different facets of online identity. Do some brainstorming, listing, or freewriting to think about who you are online. As we discussed in class, the readings typically looked at one or two kinds of identity each, but most of us have multiple identities depending upon our rhetorical situation (our audience, purpose, context, author, and genre, see pp. 22–27 of W/D).
Think about who you are online. Define online as any digital spaces in which you compose texts (widely defined). Think spaces like blog posts, Instagram, email, SnapChat, text messages, Facebook, YouTube, and so forth—and think about not just the original texts at those sites, but also the ways that you might respond in those spaces, like commenting, liking, and retweeting.
If you need some extra structure as you think about who you are online, use the Digital Identity Mapping form (open the link, then go to File → Make a Copy in Google Drive). This tool comes from Fred Cevezza (in French).
As you think about who you are online, remember that your image and explanatory statement will be public, both on the Internet and in the classroom. Choose aspects of your online identity that you are comfortable with everyone in the classroom (and potentially, everyone in the world) knowing about. You will incorporate what you create for this project in your next project (the Web Portal), most likely as part of your About page.
Step 2: Create your image
Create an image that expresses your online identity using whatever image editing tools you are comfortable with. You want to use an image-editing tool that lets you do the following:
choose the size of your image.
change to the image (e.g., combining two different images).
add text and other effects to the image.
save the image so you can upload it to other places.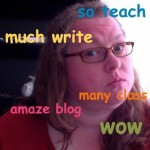 Nearly every image editing tool will let you do those things, but you may need to check the documentation for details. I will use picmonkey.com in class for demonstration purposes, but I used PhotoShop to create my image.
View the "Images and Words" videos from Foundations of Layout and Composition with Sean Adams on lynda.com before you begin editing to learn more about how to compose your image.
Here's what you need to do:
Begin with an image that represents you. It can be a self-portrait, but it doesn't have to be. It can be a photo or a drawing. Anything goes as long as it represents your online identity in some way.
Upload the image or open the image in your image editor. See the documentation for the tool you have chosen if you need help.
Crop out any distractions in the background so that the image focuses on the main point.
Edit the image as you like, adding filters, special effects, and so forth.
Add text to the image that complements the image and helps communicate the message you are making about your digital identity. Keep in mind the advice from the "Images and Words" videos.
Save your image and make a backup.
Step 3: Compose your explanatory statement
After you create your image, compose a explanatory statement using the linguistic mode (that means words on the screen, like a short essay) that meets these expectations:
incorporates your online identity image.
explains how the image represents your online identity.
includes at least 250 words (but longer is fine).
uses layout to make the document easy to read.
is written and shared using Google Drive.
Step 4: Write your reflection memo
In Scholar, you will write a short message (about 100–250 words) to me that gives me the share link to your Google Drive document and then explains the decisions you made as you created your project.
This memo is your chance to tell me whatever you want me to know about your project before I look at it. Among other topics, you may want to answer questions like the following:
What do you want me to know about the way you created your project?
Is there anything special about tools you used, any research you did, and/or any outside sources you used?
What is your favorite and/or least favorite part of the project (and why)?
Are there any weaknesses you see in this piece? Tell me about them.
What techniques have you tried that differed from your regular process?
How does this piece compare to other pieces you have written?
What did you find difficult about this piece, and why?
What really worked in this piece? Why did it seem to work well?
If you could do more work on the project, what would you focus on (and why)?
What is the one thing a reader will take away from your piece?
The questions above are meant to help you get started. You don't need to answer all of them. Just choose questions that help you tell me the most information I need to know about your project. You can write this memo in class on the due date.
Random Project Examples for Inspiration
These examples show you the range of things you can create. The explanatory statements are longer than what you need to write. We'll talk about how they work in class.
Image Credits
Works Consulted
This assignment was inspired by the "Newbs R Us!: A New Year and New Multimodal Opportunities" blog post by Jeanne Law Bohannon and Kim Haimes-Korn.