This is the post for the Wednesday, March 18, 2015 class meeting.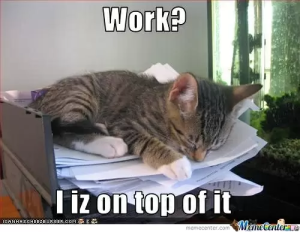 Today, first you will sign up for your presentation time slot. After that, I'll talk about how to embed your presentations in WordPress.com, and then you can continue your work in class.
Presentation Sign-Up
Sign-up for a presentation slot for sharing your tool with the class, using the Sign-Up Tool in Scholar. The slots open at 10:15 AM for the 10:10 class; they open at 11:20 AM for the 11:15 class. Go ahead and log into Scholar and be ready to click sign-up when the form opens.
Embedding Your Presentation
Most of you are using PowerPoint:

You need to embed your presentation slides on your WordPress site. Essentially, there are three options to consider, which I think will cover all the possible scenarios:
Burning Questions
Do we need to continue posting screenshots of our progress to our WordPress blog, or was that only necessary for the independent work last Friday?

No. That was just for the independent work. That said, if you want your posts to show more of the effort you are putting in or illustrate something special, you can add images, screenshots, links to your notes, and so forth.

On Friday, when you say have a draft ready to share would you like to have both the essay and presentation drafted?

Share whatever you have. Focus on what you most need to know. For instance, if you have spent all your time on the essay and want to make sure it's set before you pull out pieces for your presentation, that's fine. It's also fine for you to show just your slideshow or to show both. You decide what you most need help on.

How many points will be deducted for using more than 5 words on 1-2 slides?

It doesn't work that way. Remember that there are three levels for your work:

| | |
| --- | --- |
| Unsatisfactory | The web essay, slideshow, and oral presentation are incomplete, have errors, were submitted after the deadline, or were not submitted/presented at all. There may be significant errors in content, design, style, and/or organization. The work shows that the writer didn't put in much effort and wasn't doing her best work. |
| Satisfactory | The web essay, slideshow, and oral presentation are complete and generally error free. They meet the requirement of the assignment fully, and it shows strong effort on the writer's part. |
| Exemplary | The web essay, slideshow, and oral presentation meet and go beyond the requirements of satisfactory work. It is strong, amazing work that dazzles. Exemplary presentations use the 1/1/5 organizational strategy (using no more than 15 slides) to present the information to the class. The web essay integrates screenshots and examples well, and the navigation and design of the web essay are effective, user-friendly, and well-chosen. |


There is one grade for the whole project, so doing exceptionally on one part can help balance out problems on the other part.
Working on Your Projects
You will have the rest of the class session to work on Project 3. I will meet with each one of you briefly and ask you to show me what you have done on the project. If you have a question you need immediate help with, let me know and I will come help you first.
Today's Blog Post
Write a blog post with the usual headings: (1) What I Did, and (2) Why I Did It. Include whatever work you have done since your last post.
Homework
For Friday, 3/20:

Have a draft of your work ready to share in class for peer review.

For Monday, 3/23 through Friday, 3/27:

Presentations in class; attendance is required even if you are not presenting. There will be blog posts to write for each class day. Be sure that you send the URL to your presentation by 9 PM the day before you present so that I can set up the post for the day

For Monday, 3/30:

Project 3 due. We will work on the reflection memo in class.

For Wednesday, 4/1:

We'll go over Project 4, the remix a story project.