This is the post for the Monday, March 30, 2015 class meeting.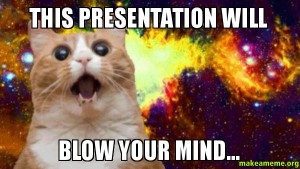 Today we continue the presentations for Project 3. Your job during this session is to pay attention, since you may want to use these tools yourself in Project 3.
Presentations for Today
These are the people and tools scheduled for today's presentations.
10:10 Class
11:15 Class
Today's Blog Post
After the presentations, choose the tool you saw today that you are most interested in trying out (other than your own if you presented). State what tool it was, why you found it interesting, and how you might use it.
Homework
For Wednesday, 4/1:

If you are presenting Wednesday

, be sure that you send the URL to your presentation by 9 PM on Tuesday, March 31 so that I can set up Wednesday's post.
We will work on the reflection memo in class.

For Friday, 4/3:

We'll go over Project 4, the remix a story project.