This is the post for the Friday, February 13, 2015 class meeting.
I'm sick today, so you'll complete your work online. The class will not meet in the classroom.
Class Megablog Set Up
The megablog for the course is set up. For today's session, please confirm that your blog posts are showing up on the site:
Go to the megablog at http://spring15blogs.tracigardner.com/.
Find your name in the Authors sidebar (on the left).
Click the link for your name and make sure that posts from your blog show up.
If they don't, email me with the URL to your blog. If I don't hear from you, I will assume that all is well.
A couple of notes:
The megablog is not the prettiest thing ever. It is just an aggregator that collects all the posts. The point is to be able to get to one another's blogs easily. Think of it as a clearinghouse.
There is a lag between the time you post a blog on your website and when it shows up on the megablog. Usually it shows up in about 60 minutes. If a recent post hasn't shown up yet, give it time. If it's been 24 hours, you can email me and I will check it manually.
Writing Content for Your About Page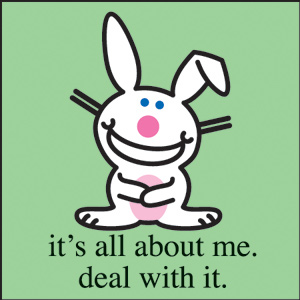 The About Page for your WordPress site can include the image and explanatory statement that you wrote for Project 1 (your online identity statement). You can use that statement as it is or revise it. It's up to you.
The About Page on your site should tell someone about you, the author of the site, and why you made the site. At its most basic, it identifies you as the author and says you made the site for the course. It's similar to the author bio that you'd find on the back cover of a book.
Do protect your own privacy and only divulge information that you are comfortable with the entire class reading. If you are in the witness protection program, realize that you do not have to include a photo of yourself or use your real name.
Here are some random examples that show the kind of information you might include:
I also also have some how-to links that might help you:
Writing Content for Your Site Info Page
The Site Information Page tells someone about how you made your website. The information is similar to what you would find in a book's colophon. You would explain about the theme that you used and who made it, the plugins you are using, and the image(s) that show up on every (or most) of the pages on your site. Here are some random examples that show the kind of information you might include:
Today's Blog Post and Quiz
Write a blog post with the headings (1) What I Did, and (2) Why I Did It. Include whatever work you have done since your last post. Talk about any ideas you found in the examples for About and Site Information pages and what you might do on your site as a result of what you found in the examples.
Be sure that you complete the quiz for Chapter 1 by 11:55 PM tonight (Friday, February 13).
Homework
For Monday, 2/16:

Have your WordPress site ready to share in class with another student for peer feedback.
I will provide some guiding questions for you to use as you respond to one another, but come to class prepared to ask for help or specific feedback as well. For instance, you might want to know whether your background image seems too busy, or you might ask for suggestions on how to add more details to your About page.
For Wednesday, 2/18:

You will have most of the class time to work, and I will answer questions about your sites.

For Friday, 2/20:

You will work on your reflection memos, and submit your work (if you are ready).