This is the post for the Friday, January 30, 2015 class meeting.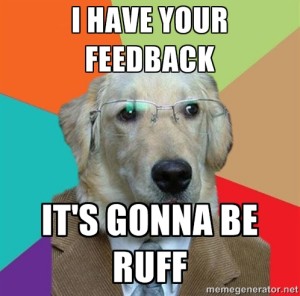 Today you will complete peer review for the first project and then submit your work by the end of the day. Remember that you have a one-week grace period if you need an extension. No questions asked.
Peer Review Activity
Today's peer review is just a short activity where you look over each other's papers. You will provide each other verbal feedback. Please complete these steps:
Pair up with someone else in class. You may have to work in threes if there is an odd number of people in class.
Share your projects with one another, using whatever method is easiest. You can probably simply read one another's screens.
Provide feedback on the following:

Check the title of the file and document. Let your partner know if it is unique, clear, and effective.
If you notice any spelling errors, punctuation errors, or typos, point them out, but please focus more on the content rather than editing.
Look at the image and the explanatory statement. Comment on at least three things your classmate does well and at least three things that your classmate could improve on.

Be sure you end your conversation with a bit of encouragement.
Make any corrections or changes that you want to improve your work
Reflection Memo
Once you are ready to submit your work, you will go to Scholar to write your reflection memo. Follow these steps to write your reflection memo and submit your project.
Homework
For Monday, 2/2:

Go to one of the Lynda.com tutorials linked below and watch a minimum of three videos of your choice (not all three courses):
Look for general advice on what makes a webpage/site work, and be ready to discuss what you found in class. Focus on general principles rather than any specific details on how to code something.

For Wednesday, 2/4:

We will work on setting up the WordPress sites on Wednesday, so begin thinking about a name and the kind of design you would like for your site. It can tie directly to your online identity statement, but it doesn't have to.
Begin taking photos you can use to illustrate your blog. You can use your online identity image for your About page, but you will need more images. Take some photos (or identify photos you have already taken) that will work with the name and design you are thinking of and upload them to some place like Flickr, Instagram, or Google Plus Photos so you can get to them in the classroom.
Note that by the end of Wednesday's session, you should have a blog set up and you should have written your first post.

For Friday, 2/6:

Class will not meet in the classroom, as I will be traveling to a conference.
In lieu of the class meeting, please watch the lynda.com video on "Changing the Appearance of Your Site" (39m 36s).
Apply what you have learned by choosing a theme for your WordPress site and customizing what you have on the site.
Write a blog post with the headings (1) What I Did, and (2) Why I Did It.